Braintree, MA. (November 6, 2020) — U.S. life insurance application activity was up 7.6% YOY in October, according to the MIB Life Index. This is the largest YOY gain for the month of October in over 9 years and continues a positive YOY growth trend for 2020 that started in May. On a monthly basis, October grew over September by 6.0%, the largest MOM gain since the pandemic and highest MOM gain for the month of October since 2012.
YOY growth was largely driven by younger applicants with the 0-44 age group at +11.5% and the 45-59 age group at +8.3%. In contrast, the 60 and over age group continues on a downward trend at -3.0% YOY. Year-to-date activity was up 4.3% overall, passing a prior YTD activity high of +4%. YTD the 0-44 age group is up 7.0%, 45-59 up 3.8% and 60 and older age group down 1.6%.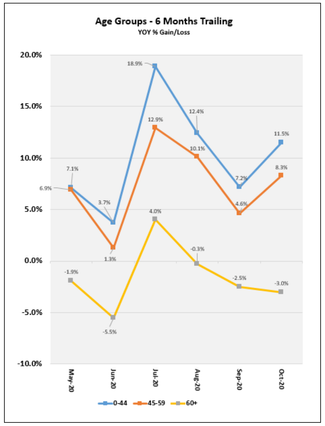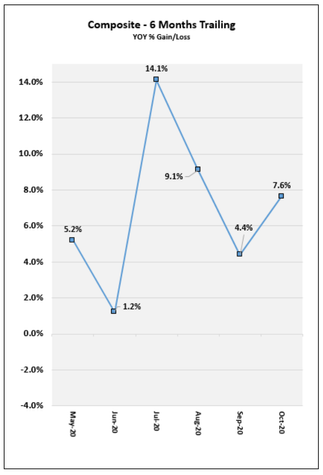 MOM growth of 5% or greater was recognized within all face amount bands, with an impressive growth of 23.12% in face amounts over $5M. On a YOY basis, slight increases were recognized for face amounts of $1M or less as well as over $5M.
Term and Universal Life product groups achieved double digit growth of +11.74% and +10.3% respectively on a MOM basis. On a YOY basis, term submissions remain relatively flat, while Universal Life products grew by 15.22%, driven primarily by gains of 25% or greater in both Indexed Universal and Variable Universal Life products.
To view the entire archive of historical reports, visit us at: www.mibgroup.com/.com/resources/life-index-reports/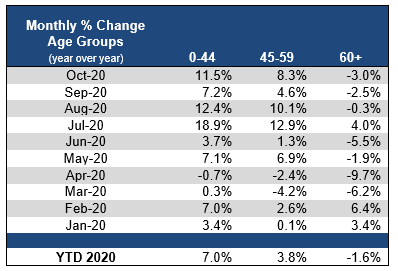 Contact: Betty-Jean Lane, MIB Group, Inc., (781) 980-0017 , BLane@mib.com